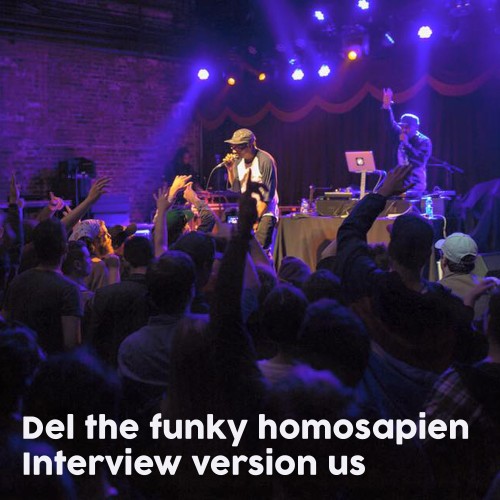 Built to Last : You were part of many avant and experimental records early in your career. What did you find attractive in those kind of projects?

Del : I like all kind of music you know, it doesn't matter what genre it is, I just like good music. Gorillaz, Deltron, whatever. So these were just chances that I had to extend. I'm a fan of all music.
BTL : You released Missing Link with Dinosaur Jr. A song you performed live with Mike Watts and Mike D. Why did you not push the collaboration further?
Del : Oh yeah, the 'Judgement Knight' soundtrack ? That was a long time ago That was like a one time thing you know. I don't even know how Mike D ended up drumming.
Hey Dante, do you remember Missing Link ?
Dante : hmmm, that was through Jo Mascis I think, initiallty that was just Mike Watt, and Mike D just happened to be around, and wanted to join.
Del : Oh yeah ? Okay then. He played everything on that shit. I started studying music later because of him. Hella talented dude.
BTL : George Clinton and Funkadelic are a source of inspiration as we can hear in your first lp. How did P Funk influence you?
Del : P-Funk influenced me as a way of life really. I just loved their whole aesthetic, their whole ideology or whatever you want to call it. Spiritually, Musically, the whole deal, that's how it inspired me. There's a lot of things they were saying in their songs, I could relate to. And music wise, they just were the illest, period. They were the tightest. They had musicians from James Brown's band, you know what I'm sayin. They were unbeatable, so yeah 'I wish my brother George was here', was also related to George Clinton.
And the fact that now, I know George personnally, that we can have convos and shit, this is hella tight to me.
BTL : 25 years in the game. what's your feeling on your output, retrospectively? And what's your opinion on the way rap changed since MistaDobalina?
Del : Since Dobolina, my sound got more refined, To cut to the chase, I'm just refining what I'm doing. A lot of what I've been doing, I'm still doing it now, but it's hard to keep some of that essence, because the older I get, it's just other outside influences, that makes the stuff not as fun to do as it used to be.
So a lot of my focus now is figuring out how I can keep doing what I'm doing and keeping it as fun as it used to be for me, and for the audience too.
I'll say this : this was like high school to me, now it's like college to me. So I don't feel like I'm done by no means, I feel like I'm just by now getting started. Because now, I know what I'm doing. Back then I was like a kid, I didn't know what I was doing. So know I got more tools to use. But I still want to keep the same essence that I had before. And use it as the foundation.
It's just growth really.But I still love everything that I've done before although in my mind I'm still thinking about the future.
There's always something in my past work that I'm picky about, because you always have to get better, but it does not mean I don't like it.
BTL : You worked a lot with Dan the Automator. what's you favorite project?
Del : I don't have a favorite really, but if I had to choose, Deltron's Second Event would be my favorite.
We've been working with a the band, been on the road, did a tour that ended up being pretty big, that shit was hella fun.
We're working on some new shit too. But personnally, I try to look at it with a wider perspective, media wise. I try to get into it more than just music.
I'm talking about comic books, novels, cartoons, movies, toys, whatever. The music is the basis, but I'm thinking about it as a whole world. So that's definitively more work.
Dan and I just made the soundtrack for Money Monster. We made a song for that, and we also made a song for the video game Battleborn from Gearbox.
Both of those are pretty dope
BTL : What do you think about the new generation of artsists like : Joey bada$$, Earl Sweatswirt, Bishop Nehru, Vince Staples ?
Del : I love them. Especially Earl sweatshirt, I definitely fuck with Earl sweatshirt. He's a heavyweight. I also fuck with Richie P, supa dupa fly all day. But I fuck with battle rappers more though, I've been stuck on batlle rap, this is what I'm really on when it comes to the lyrics. I could be watching this all day everyday, could go to sleep with this shit on. This is what I'm about when it comes to the new generation mc's : raw lyrics with no filter basically.
The interview's done May 07 2016 at Brooklyn Bowl (New York)
Thanks : Del, Domino, Trinidad, Estelle.
Photo : Eric Sager
DEL THE FUNKY HOMOSAPIEN – Built To Last Mix