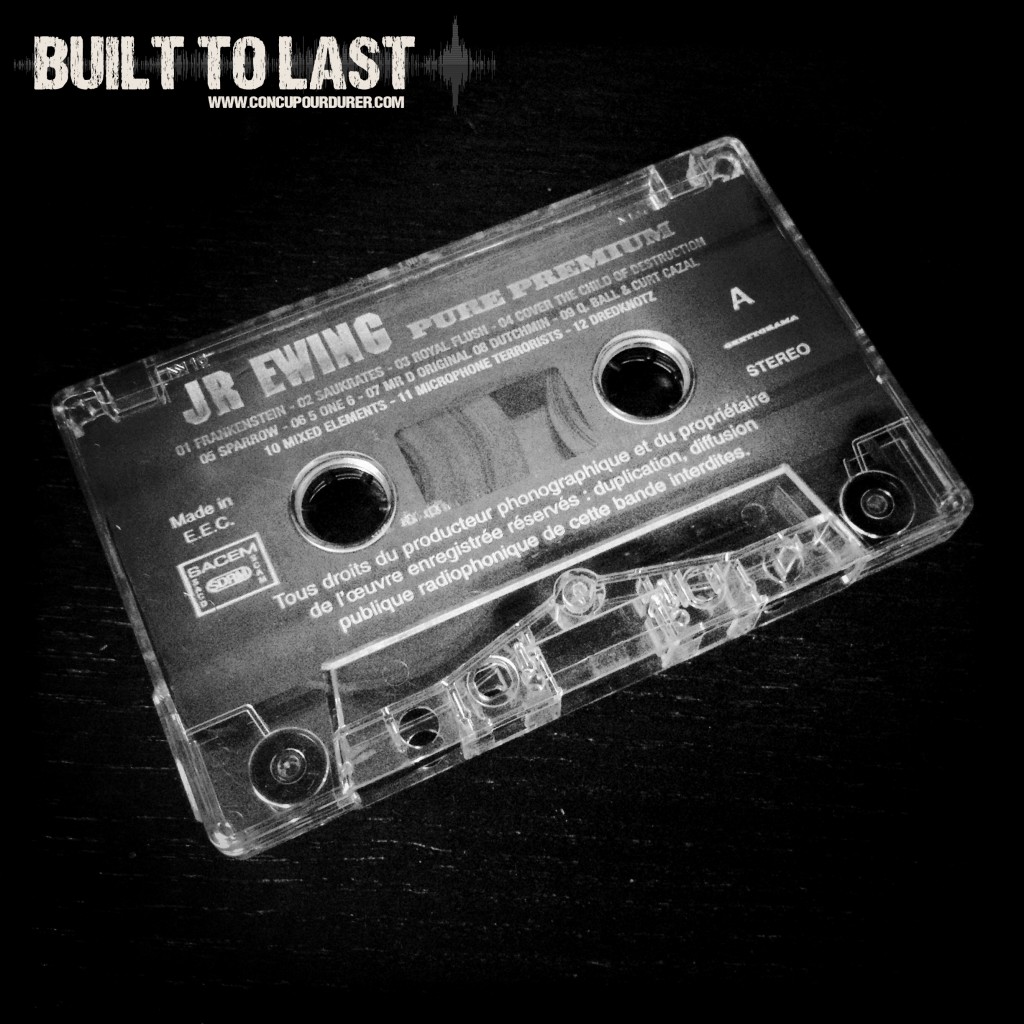 Built to Last : What are the oldest memories of buying records?
Jr Ewing : I didn't exactly buy my first ones!
Tieum : The first ones you got your hands on (laughs)!
Jr Ewing : Anything?
Built to Last : Yeah
Jr Ewing : the first one I bought was the 'laisse beton' 45 by Renaud (laughter) (classic French pop ed.)
Built to Last : And your first rap records?
Jr Ewing : As I told you, back then, there was a lot of stuff we had on cassettes, because we were broke, and tapes were easier to steal than vinyls…So we got a lot of stuff on cassette. We eventually tried to steal some shit we had on tape on vinyl, hiding them into drawing paper bags!
But rap-wise? Hmmm, you had 'break dance', Kurtis Blow also. It was what you can call the Sidney period, the smurf trend etc…The whole shit really blew up when with Run DMC/Beastie Boys, and then later came the Public Enemy, Rakim era.
And at the same time we were listening to Kurtis Blow, we were buying 80's funk and boogie records.
Personally I had a punk rock period too, Sex Pistols and the likes. My parents were into rock, they bought vinyls… I even have had the opportunity to touch a Warhol signed copy of Sticky Fingers, you know. Rolling Stones too, a lot of phases you know, David Bowie…
So as far as buying records, my habit didn't start with rap. Records were always there.
Built to Last : When did you start to mix?
Jr Ewing : I've always done tapes. Before all that, I wasn't really into mixing; I was more into introducing my friends to the sounds I had. I used to dub tape Dee Nasty radio shows, all that stuff…I really started to get on the turntables, when I had my record store: The Lab. We had two turntables, and as the shop wasn't packed all day long we had to kill time (laughter)!!!
Tieum : I remember some quiet afternoons…
Jr Ewing : Yup
Built to Last : When did you get more seriously involved in the mix tapes game?
Jr Ewing : The thing is I always did private mix tapes. I used to dub them with tape recorders at home. But after La Cliqua blew up, when Daddy Lord C and the crew went bigger and bigger, every body started to ask for personal mixes. At this point, you just start to do it in a more professional way…
Tieum : To only do that.
Jr Ewing : Yeah, tape-recorders working non-stop. I had been looking around a bit: Clyde had already made a few, Cut Killer and Poska as well… But they were doing different things. At the time I was really deep into the music industry through my label Arsenal, I had opportunities. The place that made our vinyls was also doing tapes. I told myself: "let's do it more seriously and see what comes out of it."
Built to Last : Cut Killer, Clyde and Evil Dee, Mister Cee, Tony Touch etc… Were they some of your influences?
Jr Ewing : Oh yeah, definitely. As I told you, I've always been into the tape game, even that of official groups as well as all the dj's. Since I was into new releases myself, I even used to buy un-mixed shit like Clue's and stuff, I didn't care. I only wanted to know what was hot, to get the vinyl releases after. There are tons of shit we heard on tape and started to look for on vinyl. Including a lot of stuff that was never released (laughs)
Built to Last : Did you record your mixes with a multi tracks, or did you do them one shot?
Jr Ewing : Both. I had a multi track, but most of it was done live. I only used the machine if I screwed up badly at some point, not to start all over again. You can still hear it, it's not 100% perfect, but I always wanted to keep it live.
Some preferred to edit everything, but for me that stuff sounded like a medley you know.
Built to Last : How did you put together your selections and themes for the mixes?
Jr Ewing : It all depended, it's like bombing really. In the end, you only have a rough idea but the whole process flows out of it naturally. It was always like this.
You hear the lyrics of one track, and then, like magic, it fits another one perfectly etc…
It's almost like a fluid, the same thing as painting.
I wasn't about getting all out scratching; I wanted to make something with more of a cohesive vibe. It was more like trying to find the natural match between two tracks.
As far as themes go, I'm bilingual, so, even if people in France don't really care, I tried not to mix songs about girls with another one talking about social issues.
I tried to find a name matching the cover and the tunes, but finally it was more a gimmick type of thing, adding effects to the mixes.
The only thing that was added on top of it was dj's and rappers shout outs. But generally, the drops were played live by Armen or me. When he was still living in Paris, he was doing the drops live, creating a nice interaction between me, him and the sound engineer.
Built to Last : Did you choose your visuals?
Jr Ewing : Yeah, I chose everything. I'm super directive work wise in general, I have a one track mind. But it was my personal trip too, I have always been into provocation, and my releases in a sense reflected my personality. Trying to get out with subversive stuff, instead of using pictures of girls form the Source ads (laughs)
Built to Last : I wanted to focus on your classic mix tape – the 5th volume of the 'Pure Premium' series.
JR EWING – Pure premium°1 – GhettoramA
FRANKENSTEIN – The Pain
Jr Ewing : It was one of the first super-hard to find records we started to get. What happened then, was I was known for my shop, I used to hang out with the NTM crew, I had my radio show and so on….Really, we were a handful people to be close enough with the records stores clerks in the know to have bags ready the day of the freshly imported new arrivals, every Tuesday.
But you have to remember it could be a fat week! I mean, you could have Frankenstein, Dutchmin, and Microphone Terrorists at the same time!
When you see people like Dj Spank who used to work at the Ticaret store at the time, even myself when I had The Lab, if you didn't make the trip to New York, all you had was random names on faxes. You had to figure it out by yourself: 'Oh shit, this name sounds dope!', you had a label called 'Djihad', out of nowhere, you feel like it has to be the bomb, but as a store owner you can't take the risk to pre-order 20 copies, if the record turns out to be wack.. So you're just ordering five ep's just in case it is not as good as you thought, because it happened. If you can't sell them you're bummed! But in the end, the 5 copies you got….
Tieum : it's a war going on!
Jr Ewing : It wasn't even a war! It's just that the records didn't EVEN find their way to the bins! I mean: one copy for dj Clyde, one for dj Pone, one for Cut killer, the fourth for dj Spank and the fifth for me! And that's it. You then tried to buy more copies the following week, but as it was pressed in limited quantities, the releases were sold out in the span of like, five days. And everybody's gutted.
All those records were super hard for the other dj's, because they heard us play them, they were begging like crazy: 'pleeeease, find me one!' But you couldn't, and it created drama, major drama.
That was the first wave, and the fact that those records were impossible to find made them even more mythical.
Frankenstein, there was something special I really had a crush on that artist! As I was one of the first guys to put the light on this kind of artists, we clicked and eventually worked later on "The projects" 12 inch which I'm still really proud of.
Frankenstein Built to last Mix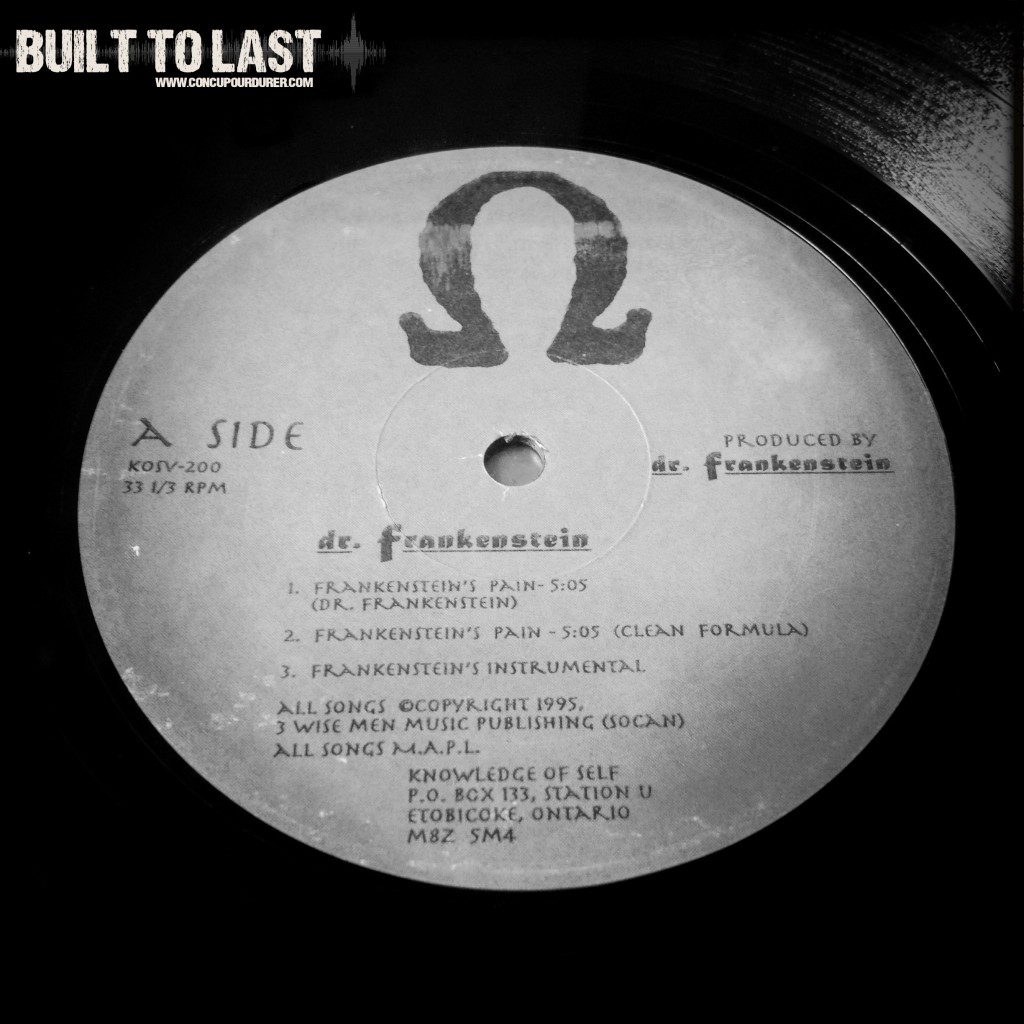 SAUKRATES – Father time
Jr Ewing : almost the same week, maybe two weeks later…We were just noticing this underground movement of dope artists from Toronto, the T-Dot scene. Early September 1996, you had maybe 5 or 6 smashers coming out at the same time, Choclair, all of that. You have to realize it was all new releases. You heard it in a shop, sounds good, and you're back home, you take the time to listen to it, your guys comes around to hang out, you blast it, and it's like woah! Saukrates already had a crazy single in 1994, but he really blew up with this one and I made the relation between the two releases at this point: yo, it's the same guy!
ROYAL FLUSH – World wide
Jr Ewing : This… is my kind of sound, my things from the Queens. When Mic Geronimo and all came out, they were borderline independent, TVT, Blunt, etc. kind of like Cold Chillin' back in the day. It was not privately pressed, but there was a willingness to be independent. It's more 1994-1995.
COVER THE CHILD OF DESTRUCTION – Underground Flow
Jr Ewing : I think I bought this one in NYC. Cover was from C.O.D crew, Children of Destruction, who had ties with Michelob and the Lords of Brooklyn, who were down with us. I think I bought it in NYC. Hmmm, I'm not even sure anymore. No, No! I got this one from Sound Records in Paris!
Right place, right time. I was one of the rare people getting stuff from them, nobody wanted to go there back then, because the store owner was utterly unfriendly. Not going to Sound Records was an ethical thing for a lot of underground dj's.
I know the boss could be unbearable to some extent, but he was always cool with me, I've known him for years. I paid my visit to him from time to time, but the rules were different, no private bag, no nothing. You had to dig hard, because he didn't even know what he had in stock, as he was ordering EVERYTHING. That's the reason he had crazy shit, but you had to dig hard. Indie rap wasn't even his thing; he was trying to make you think he appreciated it to sell you the stuff.
SPARROW – Rhyme impotence
Jr Ewing : Got it from one of my friends from Chronowax distribution…Oh no, I got it from Armen! Sparrow is from Armen. I thought it was from my man The Fox, but the Fox didn't bring this one back.
With my man Arnen, we felt the hype coming up; he brought it back from New York late august 1996 in a bag full of bombs! Then you had all the indie stuff imported from the U.S. to records stores in Paris.
But Sparrow is a special one. That's the kind of 12 inch peoples spent years to track down, super rare. I had two copies, and people were harassing me to buy my spare. I used it to trade a scarce want of mine. Oh you have that? I'll pass you a Sparrow, then I can finish my grand scheme!
10 years later or so, members of the group contacted me through Myspace. I was their buddy, because of the tape, and they told me they sold all the remaining stock up to $500 apiece to Japanese collectors, they made crazy money out of it, they almost have bought a crib from the cash they made of their 'Rhyme impotence' dead stock. They sent me mp3's of sick unreleased stuff too.
They are the first, along with One Deep to make me realize the impact Pure Premium had on the collector's scene. It even took rappers a couple of years to be aware of the hype surrounding their 90's recordings.
Tieum : Sparrow was from Baltimore, which was even more unusual
Jr Ewing : Yeah, the 90's were pre 'The Wire' days (laughters)
5 ONE 6 – Rap attack
Jr Ewing : this shit is precursor in a sense. Super small imprint: Ill Label, who already had released some sick stuff by Art of Origin. That's the first Indies we saw coming, with Big O, the dude that got killed, supposedly by Chaw, from the Lord Finesse connection through Groundfloor on Bandoola records.
I got 5one6 from Karamel distribution. We used to visit them even before I had my record store, buying directly from their distribution warehouse. I haven't talked about it yet but I got tons of shit from them. They had a small office in the 10th district of Paris. They were doing distribution work for all the Parisian record stores.
We were there to buy small quantities, before bigger stores did their pre-ordering, Tuesday afternoon, we had a coffee, put the headphone on and listened to all he killer stuff they had.
We only knew about Art of Origin, and out of nowhere, you got this 12", craft paper sleeve, looking good. Go figure: three tracks, three bombs!
MR D ORIGINAL – Now u da man
Jr Ewing : Same thing, back from New York in Armen's magical bag along with Sparrow, Labtekwon…Such a fat stack! Between Beat street, Fat beats, mostly Beat Street…When somebody handles you the bag and says: 'take it, it's yours!' The kind of bags that make you happy!
Mr d Original, a smasher, something really unique, like an UFO coming out of nowhere.
Such a masterpiece, but it still sounds gritty, listen to the lyrics man, it's so hardcore!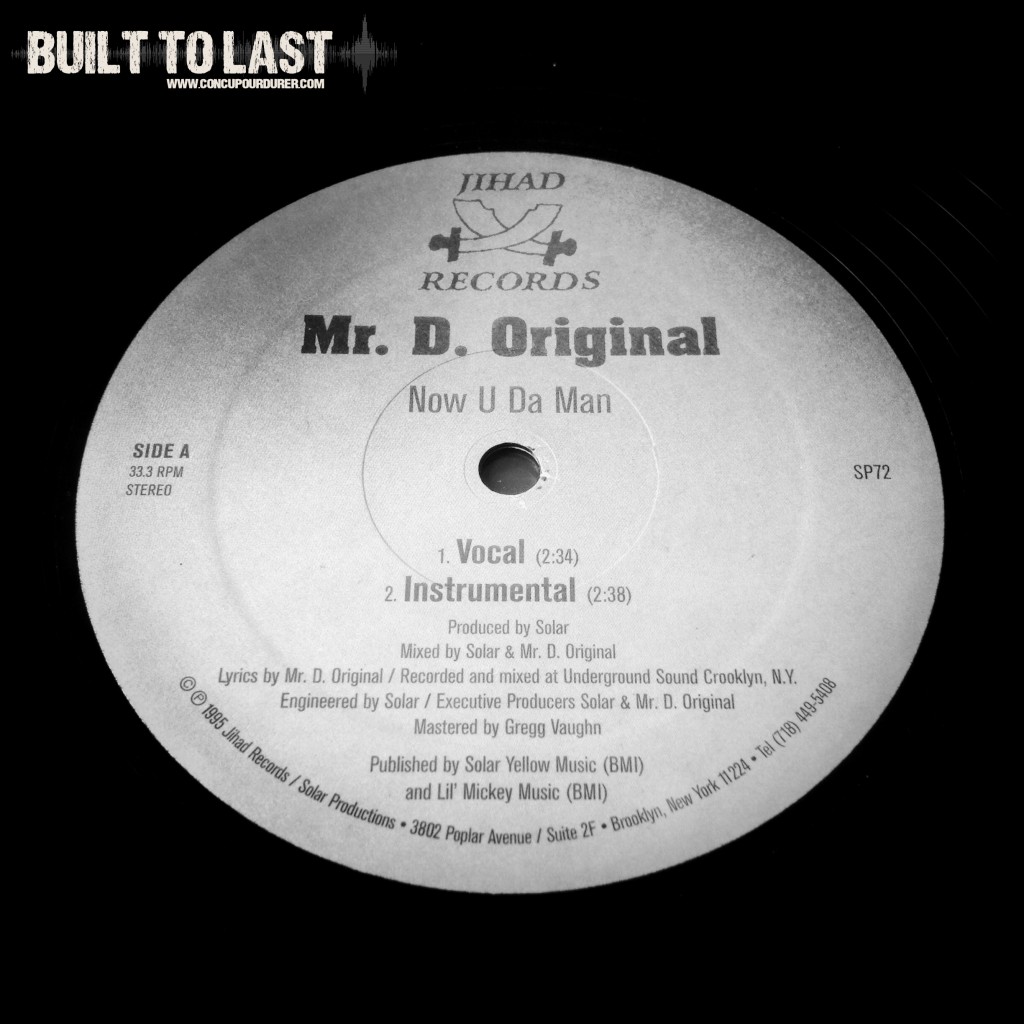 DUTCHMIN – Get your swerve on
Jr Ewing : Same bag! You have to know that records came out at Beat Street on Saturday. You had to wait until Tuesday evening to get them.
Tieum : So fast? Even with customs?
Jr Ewing : Don't worry about custom forms! We had them on time.
Built to Last : You used it as a scratch for La Cliqua
Jr Ewing : Yep, I was moving back & forth to New York, trying to get as much exclusive stuff as I could…I always was a fucking good digger. I used to show records to people. Nowadays, all this shit is on YouTube, it's super easy, people are used to it. Back then, when we pulled out those records, everybody was gobsmacked. Gallhegos, our DJ, found a copy by himself, and we knew that if we used those super obscure records, people would recognize them later. And we had all the stuff other dj's couldn't find at the time. It's just a small missile at the beginning of our track.
Q BALL AND CURT CAZAL – My Kinda Moves
Jr Ewing : like Saukrates, they already had some stuff out (as JVC Force ndlr), small indie record labels coming out in 1994 but didn't really blow up until like two years later.
People tended to think it was their first single, which was not true, a bit like Natural Elements and the likes….
A lot of those crews had previous unheard and slept on bangers.
MIXED ELEMENTS feat GINA LOVE- FX
Jr Ewing : One of those with the sick intro, one of those, that slowly builds and builds. Then the samples come out of nowhere, scratches and all that, that shit was super forward thinking, with the entire drama mood we love so much.
MICROPHONE TERRORISTS – Green paper
Jr Ewing : I didn't blend those together for nothing. They don't have anything in common, but at the same time, they are so alike.
DREDKNOTZ – Concentration
Jr Ewing : One of the groups whose releases face melted me every time. They even had a video on rotation on MTV, super sick, super thug, with crazy censorship cuts all over. If I remember correctly, I think Dj LBR gave me a copy of the official release, but there was a small promo thing around at the time.
The album went to be unreleased, I think one dude from their crew was gunned down, but the promo had two super killer tracks on it.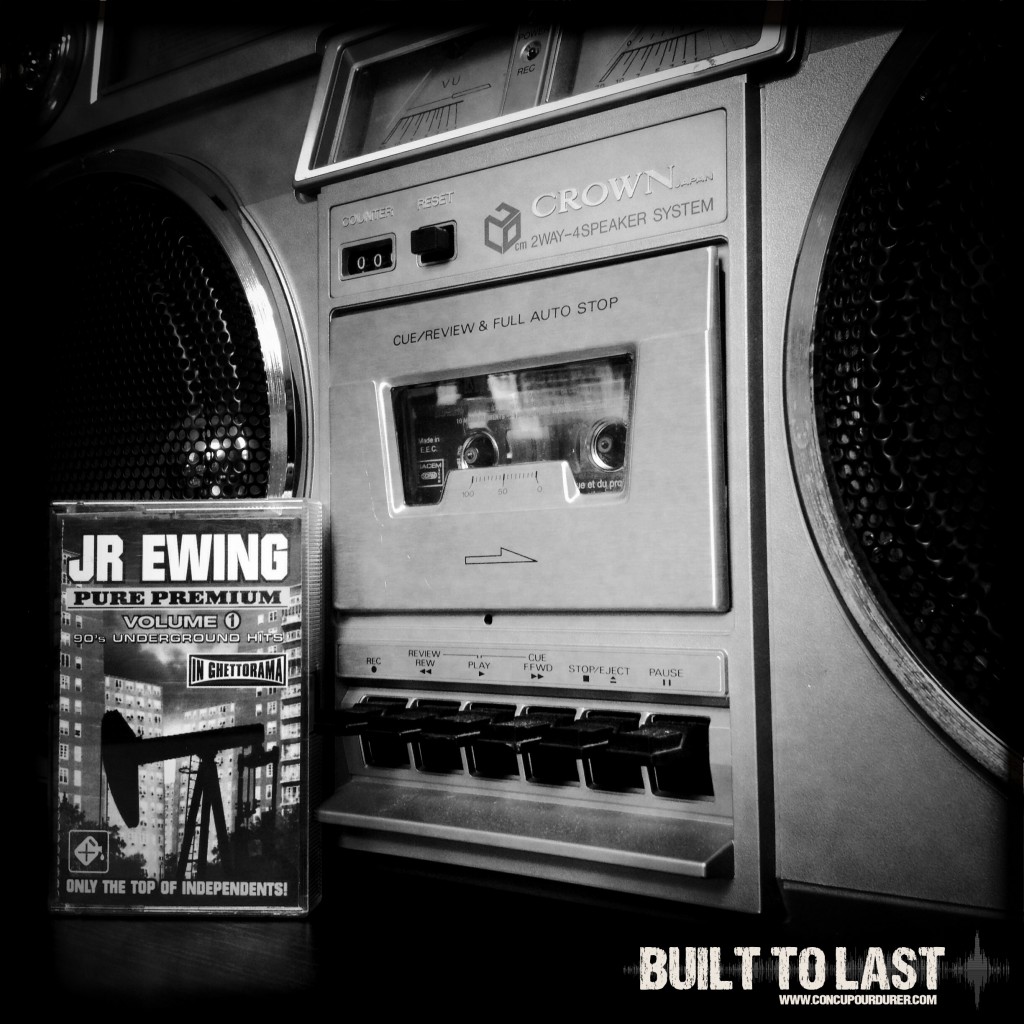 JR EWING – Pure premium°1 – Block classics
HI TECH – Book of life
Jr Ewing : Still in the same bag! I was more or less a High Tech follower; he already had a few little things out. But his shit was masterpieces every time, three songs, three bombs.
THE ALAMO – Never Judge a book
Jr Ewing : They were two ep's on Smack entertainment. You had tons of small ep's like this back then, SUNZ OF BLUNT, stuff like that… But you have to remember, it was the bootlegs era too, we used to go out and dig in London, they had bootlegs series, a lot of weird stuff…
Tieum : New York DJ SERVICE series
Jr Ewing : Absolutely, plus tons of promo only stuff. Then you had all the hood guys from the projects creating a one-off label to release something, privately pressed. Even if you look at now established peoples like Peanut Butter Wolf, he started Stones throw this way.
TOMORROWZ WEAPONS – Molested Dovez
Jr Ewing : This one had a plastic picture sleeve, it's the kind stuff catching your attention when you're digging. They are good people, they make good music and they even gave us an exclusive when we released the 'Sonz of a gun' mixtape, back when Armen met them in NYC. The track is still unreleased, I was the only one with it, it was cool.
CONCRETE MOB – Boiling point
Jr Ewing : Super tough, with "casino" on the B-Side. I think I grabbed this one the same week as BBO ENTERPRISE, which I had previously heard on a radio show. Concrete Mob? Pfff, super tough, really. What more can I say? (Top billin' ndlr)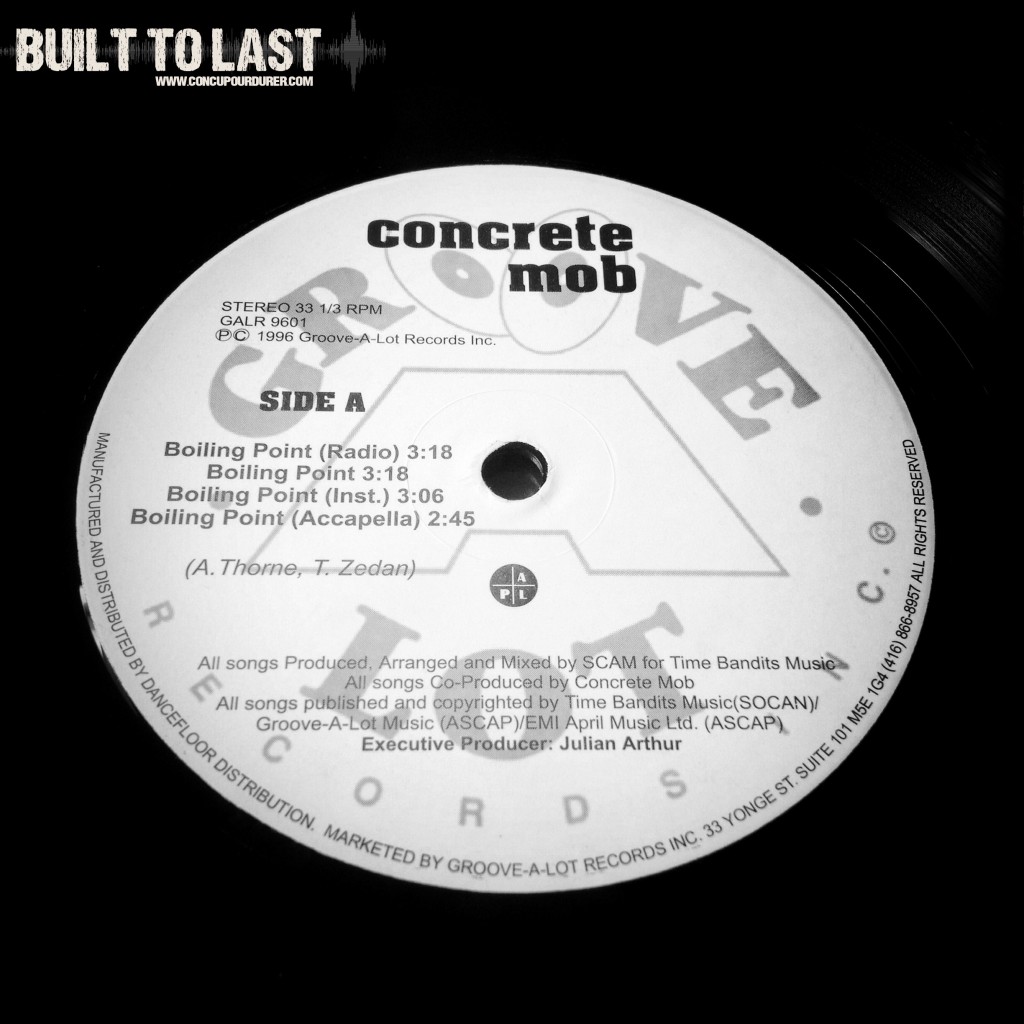 POP DA BROWN HORNET – Black on black crime
Jr Ewing : I was in NYC when I first heard it on Stretch & Bobitto's. I went mental. And they used to say fake names on air and all that shit. As I knew Beat Street had new arrivals on Saturday, I always used to book my flight back on Saturday nights. Then two hours before going to the airport, I rushed to the shop, started digging like crazy, and it was there, along with other rad stuff. I was so stoked, because I was almost sure it was a demo, and there was no way I could get my hands on it. I jammed it in my headphones on steady rotation for the whole trip back.
I've been disappointed so many times because they used to play so much stuff that was never released…
Tieum : that's the problem, they used to play demo tapes on air
Jr Ewing : Absolutely, you couldn't know if the song was a DAT, a tape or an actual record, and you waste years searching for something that doesn't even exist on wax. Before internet, you had to be patient sometimes. Some stuff like Cream team on Posey entertainment, one of the first indie releases by the late JMJ, just before he passed away. The one with 'The Young and the Restless,' sample, man it took me almost 10 years to get it. And Pop the Brown Hornet was a super surprise; I brought a fat stack of it back to Paris (laughs)
ONE DEEP – Crime stories
Jr Ewing : We were in touch for a while, but after… But initially, it's once again a smasher from Armen's magic bag. He told me he found it in a dirty crate, two or three dead stock copies sleeping in the back of the bin. You see the label, it looks so shitty, hand drawn and stuff. But when you're a seasoned digger, when you have those kinds of records in front of you, it has to be the bomb. Like: 'hmmmm, I'm feeling this one for real' (laughs).
Same thing with another 12": RODIN THE THINKER. I found it somewhere in NYC, man with a name like that, if you don't know, now you know!
ACD – In the city
Jr Ewing : We knew it because he was from Queens. He was down with Mobb Deep. It's the kind of artist who could have waited to sign with a major company since he rolled with them, but he took the independent route, made his thing by himself. He found his own way, he only made good stuff after that, but his first release was super sick.
CANDY STORE – Local scarface
Jr Ewing : At the time, those groups were not only indie rappers, you listen to the lyrics, the tone, it's super ghetto. You had tons of gangster rappers out, but they sounded so real, from the gutter of Brooklyn. They were Indies, 'local Scarface', the title says it all, sick Delfonics break, and they were all rapping with Gremlins voices (laughter's)!!!!
COMPANY FLOW – Infokill
Jr Ewing : First pressing, clear vinyl, it felt weird too. Because you take a big hit, but this time its on a clear double LP. Usually you get three dope tracks. This time the dudes showed up with a new concept, new wicked sounds, half white half black, they were into graffiti, it speaks to you, know what I mean?
Tieum : You found a brother (laughs)
Jr Ewing : Yes. Because in the beginning, it just hits you and you don't really know. But the sounds are so spaced out, the intros… It's a lot of killer tracks to gobble at once. Then, right after that they put out the infokill remix, with the Flash Gordon sample, that's tough shit!
EAST FLATBUSH PROJECT – Tried by 12
Jr Ewing : I was less a struck by this one than other records we previously talked about because I knew the first one, which had come out two years earlier and drawn virtually no interest.
But everybody discovered them through the one with DES. I'll always remember when Mehdi from IZB crew showed it to me. Those were the days.
Tieum : Madman's dream?
Jr Ewing : Yeah, it was two years before the indie scene blew up. In 1994, those kinds of records were scarce, you only could find 10 a year, maybe 15 or 20 that particular year. That's what was coming out on a weekly basis in 96.
Tieum : It was probably not that trendy then.
Jr Ewing : That's right. To make a long story short, I spotted it early. EAST FLATBLUSH PROJECT, I liked the name, both sides were sick, but the tried by 12 record eventually became an anthem. People still consider it as one of the top 10 indie records of all time. Later, even mainstream dj's started to play it, we even found out there was a video for it.
But when it first came out, shit sounded extra terrestrial. I can tell you, when I started to play it in the club the first week I got it, I didn't know what to do with it! Generally, it was a big push on the start–stop button, then boom! (JRE Starts humming the intro ndlr). People were flabbergasted.
BBO – Pose a threat
Jr Ewing : That's it, an absolute masterpiece. I first heard it in New York, but I only knew the A side, which was cool, but just OK. I bought copies over there, and brought them back to Paris.
I thought it was just a good record until I heard the B-side.
Built to Last : the B-side hurt so badly!!
Jr Ewing : I never listened to the A-side again!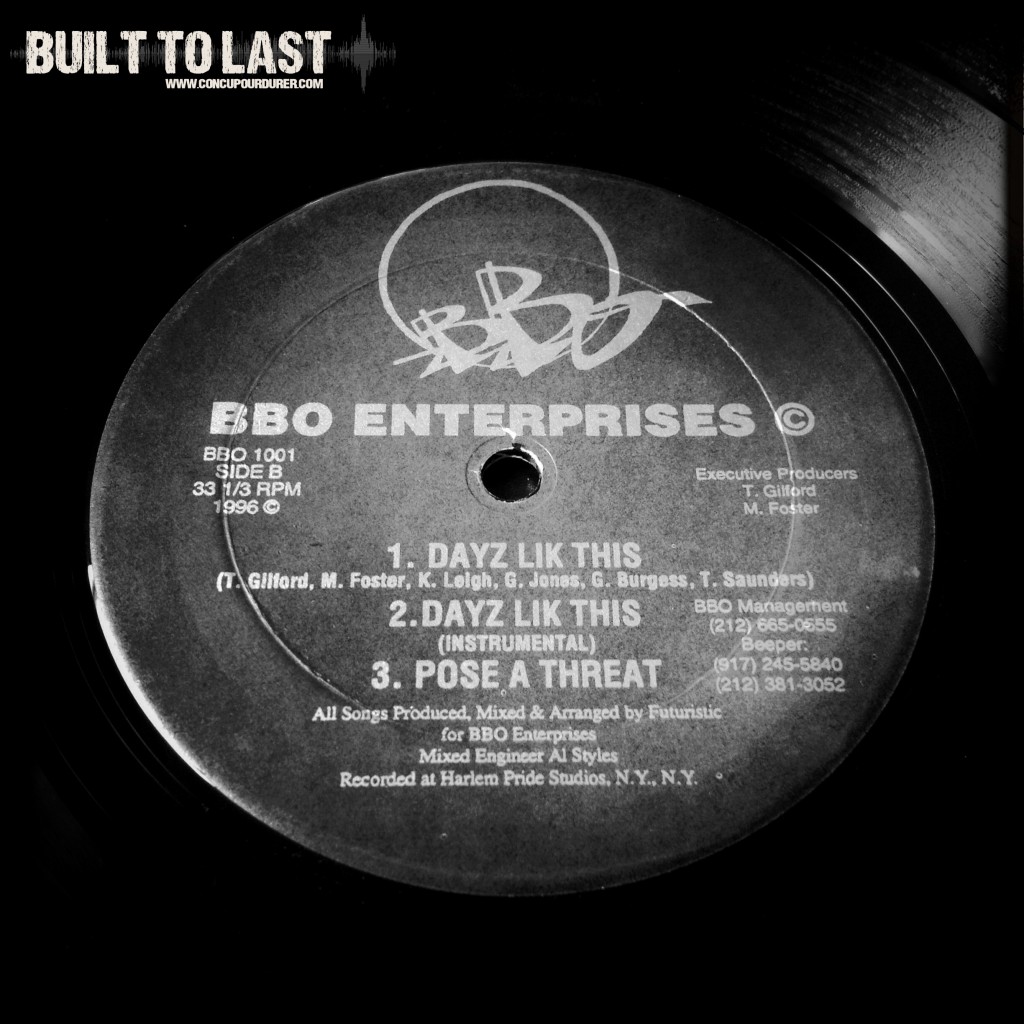 SIAH – Repetition
Jr Ewing : That's Fondle'em too! We were always trying to be on top of everything. Strech and Bobbtio, we always paid attention to what they were doing because they saw it coming, they were right on the spot. Stretch, at the beginning, was the indie specialist. He was in touch with the groups, so when we realized they started producing with Fondle'em, we knew they would have access to the guys that were on their show, sick stuff. They were pigeonholed as backpack rap, but back then, the backpacker scene was not perceived as it is now.
So there is this small label Fonde'en that releases… Did I put the Cage on that tape? I did not, I could not put everything on the first one. When CAGE came out, damn! I'm a huge Clockwork Orange fan, I love Beethoven, and you have this dude rapping some psycho insane shit all over. A lot of people had thought about using it, but nobody had managed to make a proper loop out of it.
Fondle'em released a lot of good records, sometimes it was some jazzy hippie garbage, but most of it was super consistent. Just for the atomic blast that CAGE was, you could forgive them everything.
Tieum : Plus, back then, everything was less pigeonholed, you could have Arsonists, Doom, Siah & Cage on the same label, and it didn't shock anybody.
Jr Ewing : True, true.
YESHUA DA POED – The essence
Tieum : Yeshua was behind Dead Poets Society, he used to do all the different mc's himself, he changed his voice, but he was really alone!
Jr Ewing : Yeah, along the years, you learn about all this stuff. MF Doom ie, you discover he was in KMD; you get the links, the lineage. But in the beginning, that's something you just don't know. One thing that stood up at the time was dudes had crazy names. Not just MC this and DJ that, but super creative aliases. If you look inside the tape, all those names are super intriguing, you can't even pronounce them! MF Doom, everybody loves Fatalis, and you have his man, MF Grimm, the guy is super thug, rapping in a wheel chair! And you're just figuring out MF stands for Mother F*cker (Laughs)!
Cover the Child of Destruction. That's' some name to ride a horse man! To do some knight shit!
I remember when I used to get pre orders listings, I was thinking about the amount of guys getting lost into the whole scene. 'I don't know this, I don't know this, ooh I've only ever heard of Royal Flush' (laughter).
Tieum : It was just sound, you could not link any images to it.
Jr Ewing : Exactly! When a dude like Cage comes in, you don't know if he's black, white whatever. But sometimes, shit fails too. The first time I saw Swollen Members, I never listened to their music again! It was a gut feeling. I don't know, I might have watched the wrong music video, wrong timing, I would have preferred if they had remained imageless.
DIRTY WORK feat BO BERETTA- Lower Eastsider
Jr Ewing : That's from my man Armen. Two days only before going to the studio. It's the reason Cage wasn't included, stuff like that. You only find 96 shit on there. Dirty Work was super fresh and I was stoked to have some new stuff too, not only old fave shit I knew by heart. But as you may have guessed, those records were super limited releases; it was hard to find them.
But if a lot of guys slept on this one and try to focus on bigger underground classics, it's one of MY personal big classics. I don't to brag about it, but I know a lot of the e-bay and collecting frenzy come from my tapes. Groups told me so through social networks.
A lot of younger collectors and dj's told me how they started to get involved into the indie scene through my tapes, trying to buy all the records I've put on.
They won't be looking for Cage because it's on another mix, but I think if it was on it, people would be looking for it too.
I witnessed the hype over Sparrow and One Deep, I just hope Bo Berretta could get some from it too. I didn't see many people with it back then!
ARMEN's bonus beats
To make things straight, I brought Frankenstein back from LONDON. Clyde had it on one of his mix tapes, and Brian was looking for it like crazy. Through my multiples travels, I flew to London and found it there, I can tell you there was only one single copy, that I gave to Brian.
BUT yes, one can say I used to travel to New York a lot because of my gig for « L'Affiche » (90's french rap publication ndr), so naturally I was privileged and spent most of my time between Rock & Soul, Beat Street and Fat Beats. That's how I found ONE DEEP, there were only three copies I must say, and this day I also got NY CONFIDENTIAL…
But mostly, we've had a ton of exclusives from there for our mixtapes. FRANK, CHOCLAIR or even The OUTSIDAZ, on the first beat CHAZE ever produced. ALI VEGAS, TOMORROWZ WEAPONZ, SAIGON before everybody went hip to him, shit man, we've had so much exclusives!
Let's not forget to thank a guy called AMMO who was really important as well because he kept the contact overseas when we had our radio show on Generations. He was there to pass us all the exclusives.
The Mix Tape crew was : BRIAN, LENNY BARR the engineer and me, but it was JR EWING…
The radio show was all us three plus AMMO…
We were a small team, but you have to give credit when credit is due. JR Ewing is one person: Brian. He stays the brain behind all those projects, from the music selection to the very concept of each tape, and as he told you, the choice of each cover. That was the strength of those mix-tapes.
Jr Ewing's Top :
MOBB DEEP « G.O.D. Pt 3 »
JAMES BROWN « Man's World »
DAVID BOWIE « Absolute Beginners »
HI-TECH « 24/7 »
FRANCK SINATRA « Good Year »
BEETHOVEN « 9 Symphonie »
ARCTIC MONKEYS « Do I Wanna Know »
NOTORIOUS BIG « Warning »
NINA SIMONE « Feeling Good »
ROLLING STONES « Sympathie For The Devil »
GRACE JONES « Love Is A Rythm »
DAFT PUNK « Burnin »
NAS « It Was Written »
The interview's done Tuesday, April 23 2011 at Paris.
Thanks : Jr Ewing, Tieum, Trinidad, Laura, Armen.