Conçu pour durer : We brought what rumours say is your first appearance: Ed Math 'behind the bars'. Can you give us some insight about this record?
Pete Rock : Hmmmm, I don't really remember this track. I don't think it's me really (laughs). Please let me see this. I'm not sure, but it doesn't ring a bell. It's maybe somebody else doing the cuts with the same name? What year is it? 1985? I'm sorry; I don't think I'm involved into this. I have to listen to this again, but I don't remember having anything to do with this (laughs). But I've seen this before. I can't confirm anything sorry!
Conçu pour durer : Is "80 Blocks from Tiffany's" your first mix tape?
Pete Rock : Yeah it is. You know, the actual language to call an album now, is 'mix tape'. So you can basically call it an album. I did the Smiff & Wessun thing, now Camp Lo. This is pretty interesting because I was a fan of them, back in the 90's, but we never crossed paths. The day we did, we decided to do something, and here we are.
Conçu pour durer : Is the title « 80 Blocks from Tiffany's  » related to the fact you were born in the Bronx?
Pete Rock : Yeah, definitely. Born and RAISED in the Bronx. We didn't move to Mount Vernon until 1978. I remember, as a kid, being in the park seeing the first block parties. I just didn't know what was going on with those guys. Nothing really important visibly, you know, they were just creating hip hop! (Laughter). I was too young to understand, but as soon as I became interested in music, I found my way to them.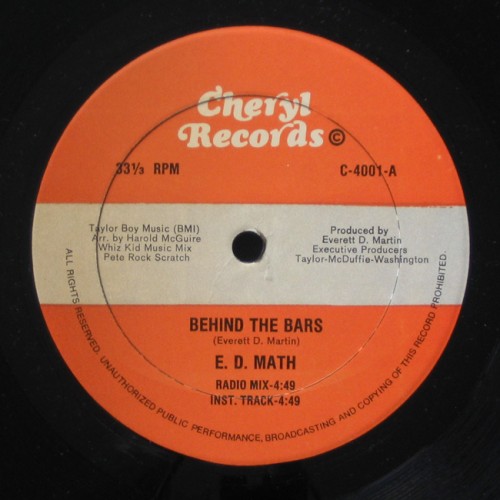 Conçu pour durer : Do you still have time to go out and dig in the crates?
Pete Rock : Yes, of course (laughs)! Every other day, if I can. When I'm overseas, I'm like: 'where's the nearest records store?' I have to explore and dig deep. That's the great thing about being on tour. You can bring back a lot of obscure records from different countries. I found drums on some weird shit man (laughs)!!
Conçu pour durer : Do you still find records in Ney York, since TSL, Big City etc shut down?
Pete Rock : Yeah man, but it's sad, really. The digital world is taking over. But that's what makes us diggers more relevant, I might be one of the last cats to do that. And that's dope. I buy online sometimes, when I need something and can't find it in the field. It's just that I don't do e-bay, I hate bidding. I just want to BUY shit (laughs).
Conçu pour durer : As you did side projects like the "Funk Spectrum" comps with Keb Darge for BBE, or the Blue Note mixes, do you have any plan to recreate the experiment again?
Pete Rock : Yeah, if I have the opportunity, I'll do it. Keb & I are real cool.I'm still passionate about finding unknown new music, and share with the world what I've found. There's always going to be something people have never heard. Like I love those obscure rock and prog' records you know. Look, Dilla knew a lot about this kind of shit. And when he used to invite me to his house, I used to always bring a bag full of records. I used to show him stuff he never seen! I showed him the Billy Gardner 'Got some' 45. AND he was from Detroit, but he didn't know it! It blew him away (laughs). BUT, at the same time, he was into the mid 70's euro prog' thing. He was pulling out a lot of heat too man. He was one of the first to mess with the 80's shit. He was showing me covers, and I was like: 'yo, really?', put the needle on, and boom, it blew me away likewise. I was sticking to the late 60's-early 70's jazz, soul, 45's with breaks…until I met him! 1984, 1985? He found stuff in everything.
Conçu pour durer : As a collector you're aware about the value of some records. But some of your 12 inches are valuable as well. What's you're opinion about limited releases on vinyl ?
Pete Rock : I know Lord Finesse does it in Japan. I'm planning doing that stuff too. But at the same time, all of our records have been illegally reissued and bootlegged in Japan! I think we're going to do this with "80Blocks from Tiffany's".
Conçu pour durer : Is it something important to you to work with new artists?
Pete Rock : Absolutely. That's what keeps me relevant you know. I still love working with the older guys, but now people want the new ones.
Conçu pour durer : Is there any new artist you enjoy, beside the fact they're hot at the moment?
Pete Rock : I like, Ab-Soul, Kendrick Lamar of course, Uncle Murdah is dope, and I really like Fabulous too.
Conçu pour durer : Is there any guys from your generation you didn't work with yet, you'd like to produce?
Pete Rock : I pretty much worked with everybody I was a fan of: Rakim, Wu-Tang… But there are still a few guys there I'd like to work with: LL Cool J maybe. I briefly did something for Jay & Kanye for 'The Joy'. But you know, they're re only a very few left from my era, so I channelled to the new generation. I might have something out with Smoke DZA. Ab-Soul, Joey Bada$$, hopefully Kendrick Lamar. You know, he picked up three of my beats, I really hope we can make something out of it.
Conçu pour durer : As production techniques evolved, do you still use your old formula, or are you into computers now?
Pete Rock : It doesn't really matter to me. I create with whatever works with me (laughs), but I'm still old fashioned. If something catches my ear, it does not matter what machine you use. It's how you make it work. But I still like to find some records and make beats out of them. Electronic syths? Hmm I don't know, I still use the same elements: soul, jazz, libraries. You can have the latest gear but it does not replace a good ear.
Conçu pour durer : You seem to be dj'ing out a lot at the moment.
Pete Rock : Yes, I even sometimes still bring my own vinyls to some parties in New York. You know when I'm on tour, Serato is cool and all of that, but I'm an analog person. Nothing can replace that gritty vinyl sound. When I'm uploading the music into Serato, it's from my actual records. But yeah, I enjoy dj gigs right now. I still love to share what I love and make people dance to it at the same time.
Conçu pour durer : Since the days of "In Control" and "Futre Flavas" with Marley Marl, are you planning to re-do radio shows? Maybe the way Dj Scratch does?
Pete Rock : I haven't done Scratch's show yet. I do Statik Selektah sometimes, Shade 45, Tony Touch's you know, a couple of things like that. Hopefully one day I'll have my own." In Control" was the shit. Those were the days man! "Future Flava" was dope too. Let me tell you. Radio shows, digging for records, still being able to do a dope track: those are the things that keep me going. I'm not going to change. That's where my heart's at. I do it passionately. Good music is what keeps me alive.
The interview's done June 26 2013 at « Connexion Live » (Toulouse – France).
Thanks: Trinidad (Thanks),Laura, Aloha.