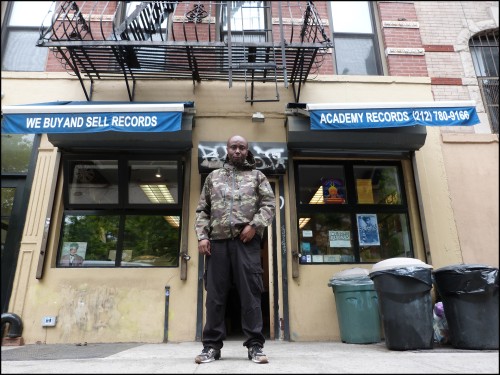 BTL : What is your first hip hop related memory?
E BLAZE : I used to watch a French TV show from the early 80's called 'Les Enfants du Rock'. I wasn't really listening to the radio back then because I was really young. They used to program some French pop, and several funkier things as well. One day they played the video for 'Party Train' by Gap Band. Dancers in the video were actually breakdancing, and I loved what I saw.
The video for Lionel Richie 'All Night Long 'featured some breakdancers as well. Then Break Machine came out, and I started to listen to Grandmaster Flash and all the good records from the era. I felt like the whole thing was amazing. The music, the way they dressed, the way they danced, I wanted to be a part of it.
I remember, and I was really young, but my mother used to tell me "you'll end up living in Harlem, you're so into it". And… I lived in Harlem for some time!
So this is how it began: watching music videos on a Saturday night on French TV. Pretty much the only way to be exposed to black music in those days over here.
BTL : can you tell us about your adventure with TSN ?
E BLAZE : My interrest for HH started at its very beginning. And my passion for it increased as i grew up. 1988 was a very important year for HH worldwide and US HH in particular with all these albums you could find everywhere (the first EPMD's, Public Enemy etc…) It was the only kind of music i used to listen to during all my school years . It became an obsession , and I started to rap.
At the end of 1989, I started a band called Tout Simplement Noir with my school buddies : First, with Jil Tismé. Then Mc Biz and Parano Refré joined us later.
It was a brand new adventure for all of us : our first songs, our first studio sessions, our first problems with sampling… At this moment I got totally involved into production and samples digging.
Back in these days there were no many other rap bands except Lionel D, Original MC, IAM, Assassin, Minister AMER, NTM. And that's it.
It was a golden era. Everybody was cool. Good vibes. And step by step, I had more fun for production than rapping. So I gave up the mic definitely to become a fulltime producer.
BTL : Are you self-taught on using machines?
E BLAZE : When I used to go to the studios, I was learning from watching the engineer. We didn't have samplers back then; we used to go to places where people had some equipment. We used to bring samples and I was watching the guy making it work. It was only after this period that I bought my first sampler. I was learning from scratch. Samples were mismatching, I didn't know how to chop a snare, but I practiced a lot, step by step.
BTL : Who were your influences back then?
E BLAZE : Basically everything that was coming out of New York. And they was so much. Bomb Squad, Marley Marl, EPMD, a bit of west coast too with Dre & NWA. Those times were so incredible, so many great records were released at this time! I was telling to myself: "keep on working; you have to reach that level of skills". And back then, they were so many different styles as well. It was an awesome era.
BTL : Why did you move to NY?
E BLAZE : I was so passionate, I had to visit the Mecca. To witness how it really was. And a friend of mine I was partners with moved to NY after he got married in 1995. He kept telling me I had some talent, and that I should go to NY to test the waters. I replied: "fair enough, but I really doubt NY is waiting for me". He said, "well, but come anyway, I'm sure they'll like your vibe, you never know".
I visited the first time in 1996. It's been 20 years actually. It blew my mind. I stayed for three months. In the span of three months I saw Biggie live with Junior Mafia in Harlem. They were literally performing in the street. It blew me away. I really felt how hip hop was a lifestyle for real over there. One day, I was walking alongside an old lady. A car passes and blasts Biggie real loud. This old lady then starts reciting every lyric of the song. She was 70 years old, and she knew every word of the track! I was in shock: I told myself: "this is sick".
I met numerous artists in the street. Puffy, Chubb Rock, I met OGC's manager in the street. I was invited to Duck Down's office; they played me Heltah Skeltah's first album Nocturnal before it was released. It was a great experience. Those three months blew me away, it was so amazing, and I wanted to be a part of it.
In 1996 I almost sold my first beat. It was the best one off my tape of 20 beats. I almost sold it to Chubb Rock. It didn't happen because I was really a novice regarding business. I thought things were easier than they actually are, but anyway it was only the lack of experience. But the vibe was cool and it made me want to come back.
I came back the year after, in 1997, and I started to produce independent artists. From there I came back more regularly: 1998, 1999. After three years I decided to live in NY. I wanted to be part of the lifestyle, the whole culture. And in 1999 I said goodbye to France.
BTL : How did you start to work at A1 Records?
E BLAZE : When I arrived, I did a couple of things here and there to survive, I used to go to A1 as a customer, but one thing lead to another and I befriended some guys from the staff.
One day during the summer of 2000, they called me because they needed somebody to do extras. They asked me if I knew enough about the music. I said "yeah, sure". I was supposed to work there for a couple of weeks, and I ended up staying for seven years. It was a great experience, I met so many people, we had calls from all over places, and everybody used to show up at the shop. People were looking for breaks etc… I met Pete Rock, Just Blaze, the Beatminerz… Basically everybody. I learned a lot working at A1.
Then I had a little break from NY. I moved to Canada. When I came back I found a gig at Academy Records, and started working there. Now it's been a couple of years. I co-manage the store on 2nd Avenue. Every day is all about records. I learn about new records I don't know every single day, and I've heard millions of them already! We still have people like Large Professor or DJ Premier who show up often. Music is 24/7 for me, the production, the records store etc… It never stops.
BTL : Do you still dig every day?
E BLAZE : Oh yeah, I discover new things every day. Some new records, some new samples I can use. When you love the music, it can't be better.
BTL : The contacts you made with the MC's, was it only through the shop?
E BLAZE : It was a bit of everything really. All the connections I made with the people from Queensbridge were courtesy of my friends from the GRIM TEAM: Greg, Chaze, and Armen. I remember Armen was doing a photo shoot for [French magazine] Rap US, who was doing a QB special issue in 2003. I was with him that day, which was how I met Infamous Mobb. Before that, I was connected with Screwball, Blaq Poet and KL, when I was working at A1. KL was coming as a customer. I gave him a beat CD, and he called me back like "Let's work on something"… And we ended up releasing a 12 inch.
The connections can come up from everywhere, matter of fact! DITC, I met them at A1 because they were regular customers. Showbiz used to buy records frequently, we always were cool, and one day he told me he was trying to put together a producer super team with DJ Premier for his new studio, Headquarterz. I told him I was doing beats, and he asked me if he could hear some. I passed him a CD, he liked it a lot and we started working together. I ended up doing some records for DITC.
So yes, it basically starts with the shop, then a friend tells a friend who tells a friend and so on, and you can get your little network altogether.
BTL : Can you tell us about your new project?
E BLAZE : I just released an instrumental LP. I produced for many different people, but this time it's really my project. It's called ForThe Luv of It Volume 3. Please let me explain why it's Volume 3, because people keep asking me what's up with volumes one and two… They were out some time ago on digital format, but not on vinyl. There was some demand for a vinyl release, so this time I put Volume 3 out on black vinyl and also clear vinyl if you want the collector's edition.
Now people are asking me about the first two volumes on vinyl. So I will try to release them as well, it might be a cool thing to do. We distribute it ourselves; we sell them all over the world: Germany, Australia… I'm going to make a few instrumental projects like this one, people like them a lot.
I'm also about to work on a project featuring many different producers with guests artists. It's going to take a bit more time, but I keep it moving. I already have a couple of names who want to be involved.
BTL : Which collaboration did you like you the most?
E BLAZE : I shared many special moments with artists. For example KL, Kamikaze from Screwball, because he's gone now. He was my dude, we did a lot of tracks together, some of them are still unreleased. We put out a 12 inch in 2004, two tracks featuring Blaq Poet. Both of them have been remixed by Marley Marl, which is rare. He remixed the songs, and played them a lot on his Future Flavas radio show.
This made my day, because for an unknown Parisian living in New York, it meant a lot. Before money, getting the nod of approval from somebody like Marley Marl is really important.
I had another collaboration with a Queensbridge dude named Littles .He's not widely known but he was kinda big locally. He was managing Mobb Deep at some point; he did a lot of mixtapes, which were heavy in the street. We did a song together, I was not present at the studio session but he got Havoc from Mobb Deep for the hook. It was really important for me because Havoc is a reference, I felt it like an accomplishment.
I did a lot of stuff with the Queensbridge cats. I did a song for Infamous Mobb's Capital Q who was on fire in the streets.
By the way, this track has been featured on Complex Magazine and on the Unkut.com website as one of the 50 best QB records of all time. I wasn't even aware, a friend of mine just called me one day to tell me "Hey man, you up there with Primo, Marley Marl…."
Those are the things that make me want to stay and work, because it's all respect.
I just told you about Queensbridge, but there are many more I can site. Let's go to the Bronx: DITC, one of the most respected crews ever. When I started to work with them, OC & AG were releasing an album together. I did half of it. For a French producer, it really meant something, it was all about recognition. People trust you enough to let you do a part of the record. When I was younger, DITC was a crew that made me want to come over here… Showbiz and AG, Diamond D, Lord Finesse, all these guys, to be able to produce and work with them is really an accomplishment.
There are a lot of great moments as well, that aren't limited to actually producing. Just being in the studio with DJ Premier & Showbiz, talking about Hip Hop all night, sharing views and ideas… Premier played me the track he did for Game before everybody. To be around those legends, and knowing they show you love. It's not a matter of being a fan, definitely not. It's more a matter of knowing they respect you as a person. This is important! Way more important than the rest actually.
Being able to live those moments… because you have to know Premier's studio is restricted. If you're not part of his circle, you're not allowed to be in except if you're invited. And I was blessed enough to be working there for eight years before it closed. I saw things, heard things; this was really a privileged place for hip hop.
Those moments are really important and still give me the strength to go on.
BTL : Can you tell us about the Funk Hunt?
E BLAZE : Yeah sure! Funk Hunt goes way back to 2000 if I remember correctly. Kourtajmé production, Romain Gavras and Kim Chaperon were in NY. I think they were just beginning to put short films together… not sure. They were friends with a friend of mine I was working with. They asked me if I wanted to feature. They told me the story was about the different life stages of a record. I couldn't refuse! It was a great experience; we had a lot of fun. I played a bouncer who smashes a dude and steals a crate of records. It was some time ago, but it was fun with the soundtrack and everything… Great experience. I had only been in NY for a year or two. That was cool.
BTL : Was the crate a good deal then? [Laughs]
E BLAZE : Yes, it was a good deal, I didn't make millions out of it but it was a good deal [laughs]. And in the movie there was an appearance from Danny Dan the Beatman, the guy I knock off in the club, a legendary DJ from the Bronx, Old School dude. Angelo, a guy from the Rock Steady Crew, was in there too…That was great.</span></p>
Now Romain Gavras is doing big things, they evolved; they had a great carreer which is awesome. Retrospectively, it was nice to be a part of the movement when they were at an early stage.
BTL: last word?
E BLAZE : Hi from NY. If you can, listen to my last project, For the Luv of it – Volume 3. It's a little vibe from a French guy in NY, boom bap music, the New York sound but with my own twist, a little European flavor.
Never give up on your dreams. 20 years ago, I would never have believed that one day I would be in the studio with Premier, DITC, and other guys … Talking about life, working together… Only yesterday I was texting with Premier. He comes to see me when he's looking for some music. It's the evidence that some dreams can come true. Never give up – if you work hard and have a touch of luck, you can achieve a few dreams.
The interview's done May 13 2016 at Academy Records (New York)
Thanks : Eric Blaze, Armen, Trinidad, Georges Mahood, Estelle, Christophe, Tieum
Eric BLAZE – BUILT TO LAST Mix
http://www.thegroupnyc.com/
https://www.instagram.com/blazingthegame/
https://soundcloud.com/e-blaze-5
https://eblaze.bandcamp.com/releases
https://twitter.com/EBlazemusic
https://www.facebook.com/e.blaze172/
E.Blaze x Lord Finesse x Large Professor from vaintino d on Vimeo.
E.Blaze & DJ Premier.Preemo is feeling « For the luv of it vol.3 reloaded » for real! from vaintino d on Vimeo.
E.Blaze & The Beatminerz.The legendary Beatminerz are feeling the album « For the luv of it vol.3 reloaded ». from vaintino d on Vimeo.